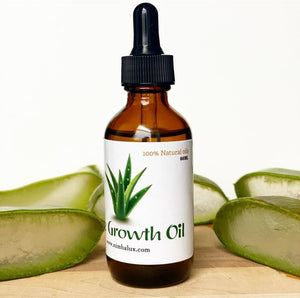 INGREDIENTS AND BENEFITS 
1. ALOE VERA - Help promotes  healthy, thick hair growth and also helps repairs dead skin on the scalp.
2. CASTOR OIL - Rapidly Increases hair growth, Seals split-ends, Thickens hair, Repairs damage  hair and much more.
3. AVOCADO OIL -
 one of few oils 
that can actually penetrate the hair 
shaft and moisturize it. It also
 strengthen the hair 
shaft and help prevent breakage.
4. OLIVE OIL - 
keeps hair moist and strong.
5. HEMP OIL - Increases elasticity strengthens hair, and promotes growth.
6. GRAPE SEED OIL - Prevent hair breakage by enhancing lubrication of the shaft. 
 7. Amla - Strengthens Hair at The Root, Stops Breakage Immediately After Application,  Improves Overall  Scalp Health
8, TEA TREE OIL - Stimulates Growth Reduces Dandruff and has Anti-Fungal Properties
9.  ROSEMARY OIL - strengthens circulation by  preventing hair from being starved of blood supply, dying off, and leading to hair 
10. PEPPERMINT OIL - Promote  hair growth

11 .  ARGAN OIL -  it's powerful antioxidant and nourishing fatty acids help keep hair moisturized and protects against damage and damage which can result in less breakage and shedding.

                                            ADDITIONAL INGREDIENTS :
Rosemary
, 
Peppermint, 
Lavender, 
Mustard seed, Sesame oil, Basil, Garlic, Onion,
,  
Almond oil,  Biotin, Ginkgo Biloba, Black Tea, Neem,, Fenugreek, Ginger Root, Kola, Hibiscus,
Lavender,
Lemongrass, Saw Palmetto, , Horsetail, Tea Tree. 
                                                      INSTRUCTION : How to use 
There are many ways to use this oil but here is one way to do it. 
1. Part hair into 3 or 4 sections with your hands or with a wide teeth comb. Apply a small amount directly to your scalp or your entire hair and gently massage it in.
If wearing a protective style, place dropper tip between braids, tracks, twists , apply serum and massage in.
You can massage scalp for 1 to 3 minutes
after application
.
You can Leave the serum in for 1 to 2 weeks and out. 
You can apply the serum once everyday or every other day. 
*For Best Results Use Serum Daily!

*Take before pictures to measure your hair to accurately monitor your progress.
(Re-measure and track results every bi-weekly or monthly )